אזור תוכן ראשי
דלג על אזור תוכן ראשי
Maehler Kaege - Automotive systems
The European market for electrical connectors and cable & wire harnessing solutions is extremely competitive.
Maehler & Kaege is proud of being a leading supplier in this market. Founded in 1907 in the German town of Ingelheim, Maehler & Kaege has been in business for over 100 years. The company has evolved into a specialized producer of e-connections in heavy-duty automotive environments. The product range consists of high quality and innovative electrical connectors and a wide range of demanding cables harnesses and wirelooms.
Serve several high-end markets:
With locations and presence in several European countries, Maehler & Kaege is able to combine its extensive knowledge in automotive e-connections with (low-cost) state-of-the-art production capabilities. Moreover, it permits us to effectively translate the customers demands into innovative products.
Products and services

Two main product ideas
Our product philosophy is based on two main ideas: an extensive range of reliable and affordable customized products and large portfolio of innovative ready-to-use products.
Standard Products
Maehler & Kaege offers a complete range of off-the-shelf connecting products, which are used to for trailer connectivity, auxiliary power applications and to connect to external power sources to all kind of vehicles. Within this standard range we offer our customers different combinations and can adapt the products to the exact wishes and requirements of the application.
Specials
But what makes Maehler & Kaege remarkable, is our wide range of tailoring solutions which transform a specific requirement or application into a high-quality product to tightly fit its purposes. With over a century of activity in electrical connections Maehler & Kaege has built an extensive installed base of e-connection products including cables and wire harnesses. It goes without saying that this can only be achieved if we cooperate closely with our clients and partners. This enables us to build unique solutions varying from product with modifications in length, colour, material or connection schemes, to cleverly engineered wire- and cable harnessing solutions. In summary Maehler & Kaege distinguishes itself by being ale to link its experience and capabilities from the connectors with the complexity and the high requirements of the harnesses and build one solution for the customer.
Download assembly instructions (PDF):
Links: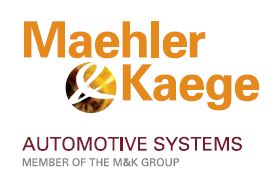 -